Graduate Student FAQ
How do I apply for federal financial aid?  Complete the Free Application for Federal Student Aid (FAFSA).  Be sure to include LSUS school code 002013. You must complete a new FAFSA for each academic year (August -July). The FAFSA is available October 1 every year.      
Are there any scholarships available for graduate students? Yes! You can apply for donor-funded and departmental scholarships via Academic Works. For additional details and deadline dates, please view our Scholarships page. Also, we send out scholarship opportunities periodically throughout the school year via your student email.  
I am an accelerated 100% online student admitted today. How long before I am awarded financial aid? Our office cannot begin the awarding process until a student have been fully admitted to the program.  All academic transcripts must be received and evaluated.  Please allow our office approximately two weeks once you have received confirmation of admission to the program and all financial aid documents have been received.  
How do I check my application status? Login to myLSUS.  Go to Financial Aid>Financial Aid Application Status>Select appropriate year.  If there are red flag(s), please locate the appropriate LSUS Financial Aid document.  If you are selected for verification, please keep in mind that this process can take up to 2 weeks (or longer during peak times) to complete. 
My FAFSA is selected for verification. What does this mean? Because the FAFSA is a self-reported application, some students are required to submit additional paperwork to verify the data reported on the FAFSA. Our office will ask you to provide the necessary documentation to verify your information. Please allow our office approximately 10 – 14 business days to review your paperwork. Verification must be complete before our office can determine how much aid you are eligible to receive. This is one reason it is important to complete your FAFSA as early as possible. 
How do I view my financial aid awards?  Login to myLSUS.  Go to Financial Aid>Financial Aid Awards>Select appropriate year. 
Do I need to "Accept" my financial aid? YES! You need to accept your financial aid before the start of EACH SEMESTER. You can do this approximately 2 weeks before the fee payment deadline each semester.  Login to myLSUS.  Go to Financial Aid > Financial Aid Acceptance > Accepted change No to Yes for the semester > Save Changes. 
How much financial aid is available for LSUS Accelerated Online graduate students? Graduate students enrolled part-time (3 credit-hours per session) are eligible to receive the Direct Unsubsidized loan with a limit of $20,500.00 per academic year. Some graduates' cost of attendance is less than $20,500 per year. Typically, this amount is split evenly amongst the six modules of the academic year. For example, a typical accelerated student academic year award will be similar to the following: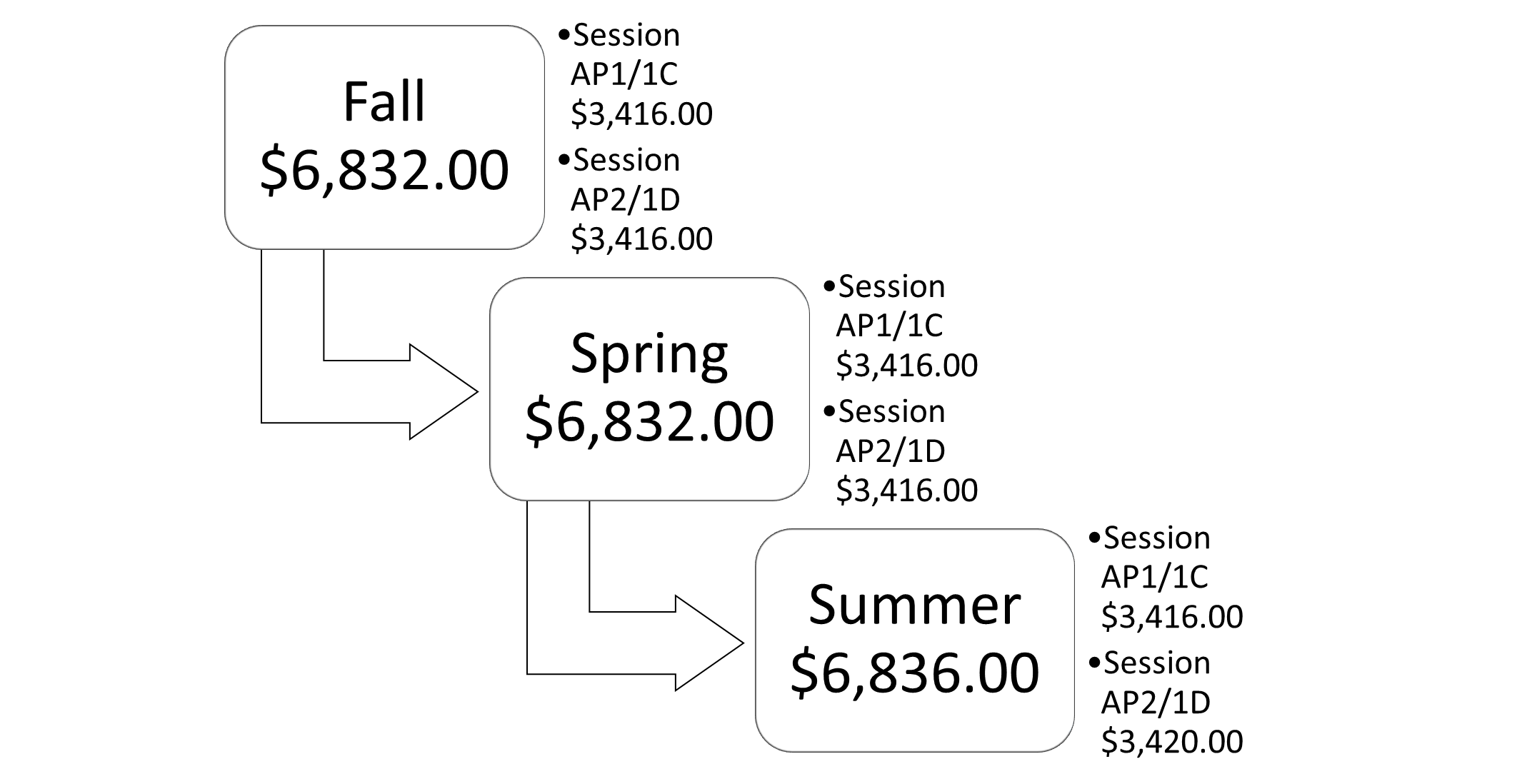 How many hours do I need to receive a student loan?  You must be enrolled part-time or half-time status to receive a student loan.  For financial aid purposes, enrollment status is based on the following:   
Program

Semester/Session

Full-time

Part-time or Half-time

On Campus Graduate

Fall, Spring, Summer

9+ hours

6 to 8 hours

Accelerated 100% Online Graduate

Fall AP1/1C, Fall AP2/1D

Spring AP1/1C, Spring AP2/1D

Summer AP1/1C, Summer AP2/1D

N/A

3 hours per each session
Optional foundation 500 level coursework are not used to determine part-time or half-time status for financial aid purposes.  Enrollment status is not official until after the last day to drop a class or the census date for each session or semester.     
Are any other loans available to graduate students? Federal Direct Graduate PLUS Loans are designed to assist eligible graduate and professional students needing to borrow additional funds up to LSU's specified cost of attendance.  Loan approval is based on creditworthiness standards set by the U.S. Department of Education.  Students may borrow up to the cost of attendance less other aid.  Please contact the financial aid office before applying for this loan since not all graduate and professional students qualify for PLUS due to cost of attendance.  Students may apply for a Graduate PLUS loan at studentaid.gov.  LSUS does not participate in private student loan programs.
What is the TEACH Grant? The Teacher Education Assistance for College and Higher Education (TEACH) Grant program provides aid for students who are completing or plan to complete course work needed to begin a career in teaching.  The TEACH Grant is different from other federal student grants because it requires certain kinds of classes in order to receive the grant, and a certain kind of post-graduation job to keep the grant from turning into a loan.  You can find more information on our website about the TEACH Grant and studentaid.gov.
How do I reduce or decline my student loan? You can reduce or decline the loan on your paper award letter and return it to our office or you can complete and return the Aid Adjustment Form found here.  Email the completed form to finaid@lsus.edu from your student email account. Please allow 5-7 business days for the adjustment to be completed. 
If you plan to enroll in a different number of hours each session, you will need to request an adjustment EACH SESSION to ensure you have enough aid awarded to cover the charges for that session. Our office does not individually monitor your account to make specific automatic adjustments each session.  
Can I use my financial aid and scholarships to pay for my Pilots Pointe Apartments?  YES!  Financial aid and scholarships can be used to pay for housing at Pilots Pointe.  Your Pilots Pointe charges will be listed on myLSUS.  If your financial aid is more than tuition and fees, then we will apply those excess funds towards your housing balance.  If your financial aid doesn't cover your full housing balance, you can pay the remaining rent monthly. 
Can I purchase books using my financial aid? Yes. If you have financial aid in excess of your tuition and fees, you can purchase your books online or in person at the LSUS Bookstore using your financial aid credit balance approximately 2 weeks before the start of classes for each term. Simply select to use your financial aid as a payment method.  
When will I receive my financial aid credit balance refund? If you are due a credit balance refund, they are issued 5-7 business days after the last day to drop/census date for each term.  Important Financial Aid Reminders/Update lists refunds dates under 'Disbursement Dates for credit-balance refunds'.   
 I registered for both AP1/1C and AP2/1D classes. My tuition for both classes was taken out of my first (AP1/1C) financial aid disbursement. Why? Your financial aid will pay for ANY outstanding tuition and fee charges on your account at the time of disbursement. If you want your AP1/1C disbursement to only pay for AP1/1C courses, you must only enroll in one session at a time. Once your aid has disbursed for AP1/1C, you may then add your AP2/1D courses.  
It is past the census date, why has my student loan not been credited? Our office may be missing your Master Promissory Note (MPN) and Loan Entrance Counseling. Please login to studentaid.gov to complete these electronic documents. LSUS should receive them within 2 business days of completion. PLEASE NOTE: Accelerated 100% online graduate students must complete the MPN for Direct Subsidized/Unsubsidized loans. DO NOT complete a Graduate PLUS MPN.
How much is my financial aid credit balance refund? Subtract your tuition and fees, book charges, and any other University charges from the total aid amount credited for the semester.  The difference will be the amount of your refund. You can setup direct deposit via myLSUS.  Contact Accounting Services 318.797.5275 or Accounting_Services@lsus.edu with any questions.
I do not receive any financial aid, but I want to set up a payment plan. How do I do that? You can set up the payment plan on myLSUS. Contact Accounting Services Office at 318-797-5275 or at Accounting_Services@lsus.edu with any questions.
I set up a payment plan but have since been awarded financial aid. Do I have to make the next payment? You should be prepared for any scheduled drafts.  Payment plans will not be reconciled until AFTER financial aid has CREDITED. Financial aid does not credit until after the census date for each session (see dates above). Payment plans will be adjusted/reconciled within 10-14 business days AFTER financial aid has CREDITED. 
I failed a class. Will I still be eligible for student loans? Maybe.  Please see our Satisfactory Academic Progress Policy, which explains the academic requirements for keeping federal aid.  
Will dropping classes affect my financial aid? Maybe. This will depend on how many classes you drop, the type of aid you are receiving, and how it is affecting your academic progress. We encourage students to contact our office when they are considering dropping a course to find out how it will specifically affect them. It is also very important to be familiar with our Satisfactory Academic Progress Policy.  
What happens to my Financial Aid if I have to drop all my classes? If you receive student loans and/or a TEACH Grant and drop ALL of your classes before completing 60% of the semester, you may owe a portion of the aid back to the University. Please go here for more information.
What happens if I do not attend a session? Disbursements will occur only for sessions in which you are enrolled. Therefore, pending disbursements will be cancelled for the session(s) in which you do not attend. In some circumstances, aid awarded for future sessions will also be cancelled. Once you reenroll, you should confirm your financial status on myLSUS.  If your financial aid does not appear on myLSUS please contact the Financial Aid Office.
Where can I access my 1098-T form? 1098-T forms are available on myLSUS under the "My Financials". Any questions regarding these forms should be directed to the Accounting Services at 318.797.5275 or Accounting_Services@lsus.edu. 
I can't find the answer to my question.  Where can I find more information?  Please call or email our office at 318-797-5636 or at finaid@lsus.edu.  We are happy to answer your financial aid questions.